The first Finnish cookbook is probably Hilda Carger's work "Tant Hildas kokbok", which she wrote and had printed in Helsinki in 1878. During the 19th century, Swedish cookbooks also circulated in the country, mainly Cajsa Warg's instructional work for young ladies, written as early as 1755. Warg's book can be found, among other works, in Fredrika Runeberg's home library. These cookbooks tell of ingredients and dishes that could potentially have been eaten in the 19th century. At the same time, it is important to remember that cookbooks can remain an ideal more than practice. Delicious recipes and lovely menu suggestions can be something you read and dream about, but on a daily basis you may still mainly cook what you are used to cooking. Dishes that you learned to cook at home, or that you tasted at a friend's place.
And with that we come to that little booklet.
Everyone who is serious about cooking or baking has that little notebook, or a stack of loose papers, or maybe in these digital days a file on their computer or phone. In that booklet, or paper, or digital file, we jot down recipes that are important to us. Grandma's gingerbread, auntie's particularly good bread, the pancake that turns out so well but which you always ask yourself, was it three eggs or four? Best check the booklet. Sometimes the booklets are passed down, and often they are written in different handwritings as friends and relatives add their own specialties.
Such booklets have entered historical archives. Fredrika Runeberg's recipe collection was found among the family's books and published in 2003. Recipes have also been written down at Hertonäs manor. A small booklet with the initials HCC probably belonged to Hedvig Charlotta Cronstedt, daughter of Vice Admiral Carl Olof Cronstedt. The little booklet was published digitally in 2022 by the Swedish Literature Society. This means that anyone can go and read Hedvig Charlotta's recipe and make the kind of food that would have been served at Hertonäs manor 200 years ago.
Now, I actually already did! And now I'm going to share a dish with you. We will cook "stuffed turnips".
The recipe is quite simple: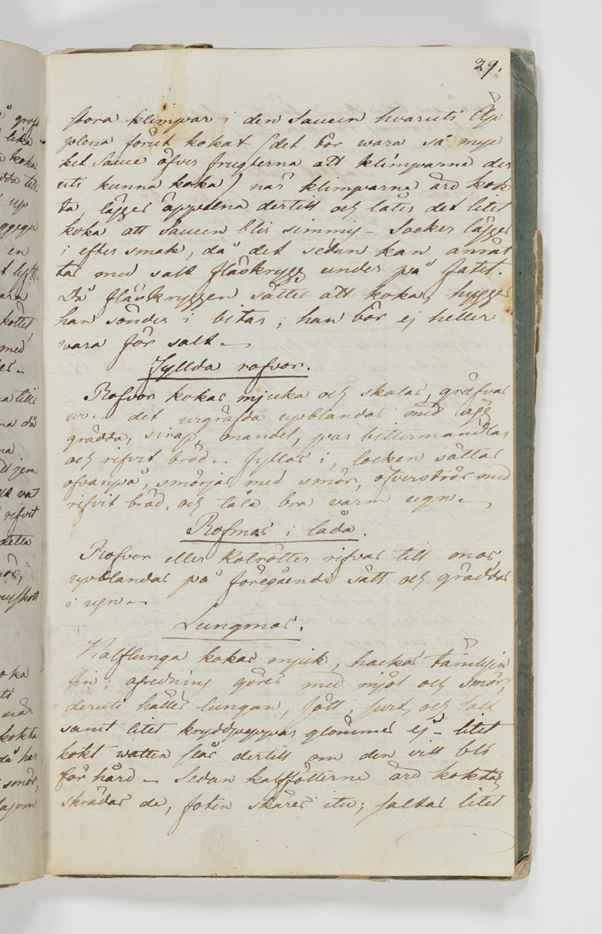 "Turnips are boiled soft and peeled, dug out, the inside is mixed with egg, cream, syrup, almonds, a couple of bitter almonds and grated white bread - filled in, the lids put on top, brushed with butter, sprinkled with grated white bread, and withstand a good hot oven."
A few words about the ingredients, before we start cooking. A couple of hundred years ago, turnips were eaten on a much larger scale than in today's Finland. Turnips were eventually replaced by potatoes, and nowadays it can be difficult to even find turnips in the store. You have to go to slightly larger stores, where you may be lucky and find a bag. The ingredient that you won't find in the store, however, is bitter almonds. Bitter almonds are a type of almond and give food and baked goods a distinct taste still popular in traditional baking. In the past, whole almonds were used that were ground at home, but since bitter almonds are poisonous, it is best to stick to bitter almond oil, which will impart a bitter almond flavour without containing poison.
So, we need the following:
Turnips
Egg
Cream
Syrup
Ground almonds
Bitter almond oil
Grated bread or breadcrumbs
Butter
Salt
The amounts depend on how many turnips you have and how big they are. You have to trust your own taste here.
Cook the turnips until they are soft but firm. Let them cool. Peel them, cut off the tops, and scoop them out. Save about half of the turnip contents in a bowl. You can save the lid, as it says in the recipe, but I didn't because my turnips were very lumpy, and I couldn't get a good lid from them.
Then mix the filling. Mash the inside of the turnips in the bowl. Mix in an egg and roughly equal amounts of ground almonds and breadcrumbs. Flavour with a dollop of syrup and a few drops of bitter almond oil. Pour in cream and stir until it all becomes a porridge. The recipe says nothing about salt, but very often old recipes leave out the salt because it was considered an obvious ingredient. Season with a little salt, therefore.
Grease a baking dish. Stuff the turnips with the filling and place them in the dish. Put on the turnip lid, if any. Put a bit of butter on each turnip and sprinkle with breadcrumbs. Then bake the turnips at 175 degrees until they have a beautiful colour.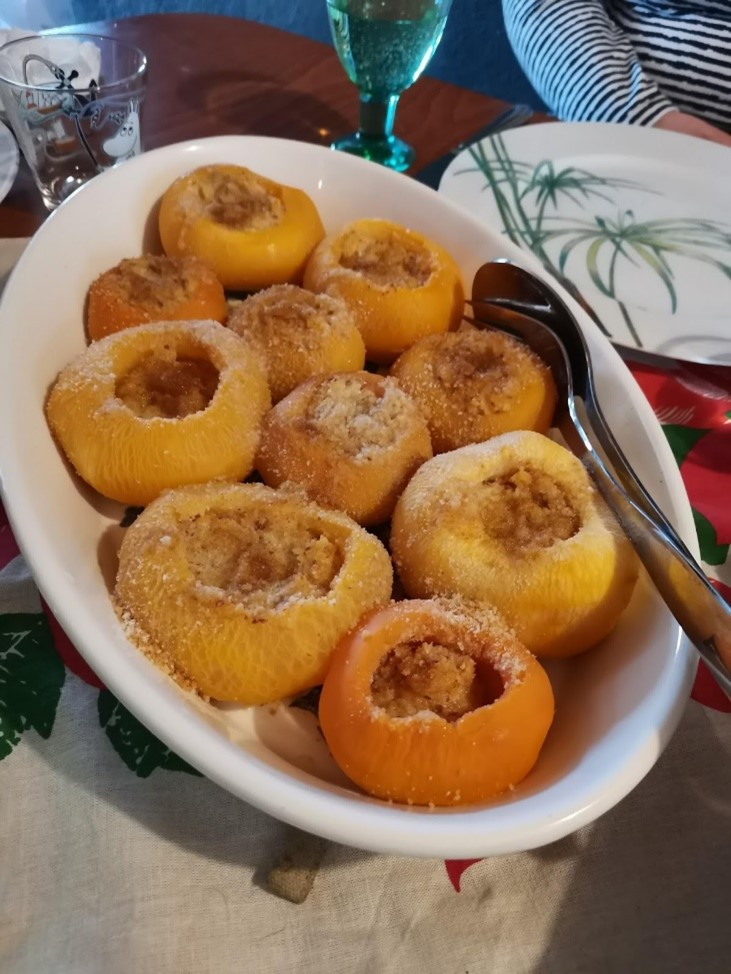 Serve warm to your surprised guests. This is not a flavour combination Finnish mouths are used to. It is typical of food from the 18th and early 19th centuries to have sweetness in unexpected places, and since these turnips also have almonds in them, your mind almost insists they're a dessert. However, present them bravely as a side dish to a main course, for example with fish or a steak, or why not as one of several vegetable dishes.
Janica Hindle is a Helsinki guide and a board member in the association Svenska Odlingens Vänner i Helsinge r.f. that is responsible for maintaining Hertonäs manor museum.